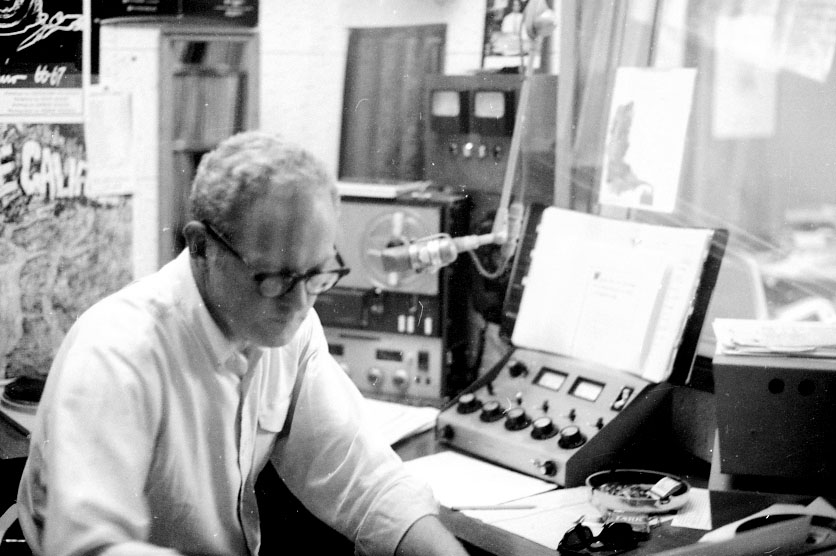 Remembering Bill Ryan

- Geoff Alexander

Bill Ryan gave me my first job in radio. I was a high school kid that didn't own an FM radio, but heard that KTAO-FM was playing jazz, and I had a growing collection of jazz records. I wrote a letter to the station, saying that although I couldn't listen, I loved the fact that they were playing jazz, because I owned a few jazz items myself. Bill Ryan wrote me back, invited me down to the station when he was on the air himself, and asked me to bring along some discs. I did, and by the end of his shift, Bill had invited me to do my own program at KTAO. I was a few weeks past my 17th birthday.

Prior to owning KTAO, William Harvey Ryan III had been in the Marines, and had become an editor at Random House, where a book he edited, Beryl and Barbara Turner Sachs Barr's The Artists' & Writers' Cookbook, featuring recipes by the likes of Man Ray, John Keats, Marcel Duchamp, Lawrence Durrell, Robert Graves, Harper Lee, Irving Stone, William Styron, and Georges Simenon, became a hit. Bill was giving one of those away with every KTAO subscription.

Bill changed my life considerably when he invited me to do the show. I met on-air people like artist Pete Blind, John Hayden, who had hung out with Neal Cassady, and Jim Hilsabeck, the biggest name in San Jose radio at the time, who did a jazz show at KTAO in addition to his rock program on KSJO, across the valley. Bill's wife Annie Ryan was always around, and she and Bill, along with Duke Hayduke, who arrived from KRAB in Seattle to be the program director, made KTAO a fun, fantastic place to be around. My high school buddy Don Campau and had I formed a free musical group called the Roots of Madness, and John Hayden had informal "free music" sessions at his house, so we started hanging out there on Friday nights. Don and I socialized with the KTAO folks, all of whom were older than us, and were into bigger things to do than going to high school football games and dances, the senior prom, and graduation (Don and I didn't do any of those things).

Bill would often talk about Lorenzo Milam, his co-owner, who was still living in Seattle, working with KRAB. Bill would post Lorenzo's latest essays on the wall, next to a studio photo of him. Lorenzo was legendary, and we all looked forward to meeting him one day. Eventually, Lorenzo moved to Los Gatos, acquired Bill's interest in the station, and Bill left. Thus began the Lorenzo W. Milam era at KTAO.

Away from the station, Bill Ryan put much of his time into the San Francisco Fault, a literary and arts newspaper he'd founded. He also was a supporter of The Fessenden Review, a literary journal co-published by Lorenzo Milam and KTAO volunteer Doug Cruickshank. By 1977, Bill had created another publication, a magazine called TUB (an acronym for The Unborn Book), a showcase for writers seeking to place a manuscript. Previously, in 1958, he'd founded a magazine called Contact: The San Francisco Journal of New Writing, Art and Ideas, which ceased publication seven years later. Bill's obituary in the San Francisco Chronicle contained this fascinating tidbit: "Ryan was part of a literary group that tried to buy a Nevada
ghost town, appropriately named Contact. The group tried to convert it into what The Chronicle reported in 1962 would be 'a roaring sin-center of gambling casinos and frontier bordellos.' The idea was to use revenue from the town's vices, which included five slot machines, to subsidize
Contact magazine."

KTAO went away forever in 1974, but I kept in touch with a lot of KTAO people. In late 1986, I heard that Bill Ryan passed away. He didn't go gently into the dark night. An obit mentions that he'd had major bronchial issues, and had driven his car off a cliff near Stinson Beach, north of San Francisco, to end it all. He was 58.

And that was the end of Bill Ryan. Really the end. As this is written (2013), Bill's name appears nowhere on the internet, with the exception of that obituary, at least as far as I've been able to ascertain. He has passed into history, alone. I know he was born in Des Moines, Iowa, left there at the age of 11. He was survived by Ann A. Ryan and sons Justin and Ben and a daughter, Justine. He may have had another son from a previous marriage, Scott Hackleroad. An old letter in my files seems to indicate that he and Ann had a falling-out some time before he died. She remarried, and became Ann Clute (Ann's father was Thomas Amidon, credited with being the inventor of Cream of Wheat cereal).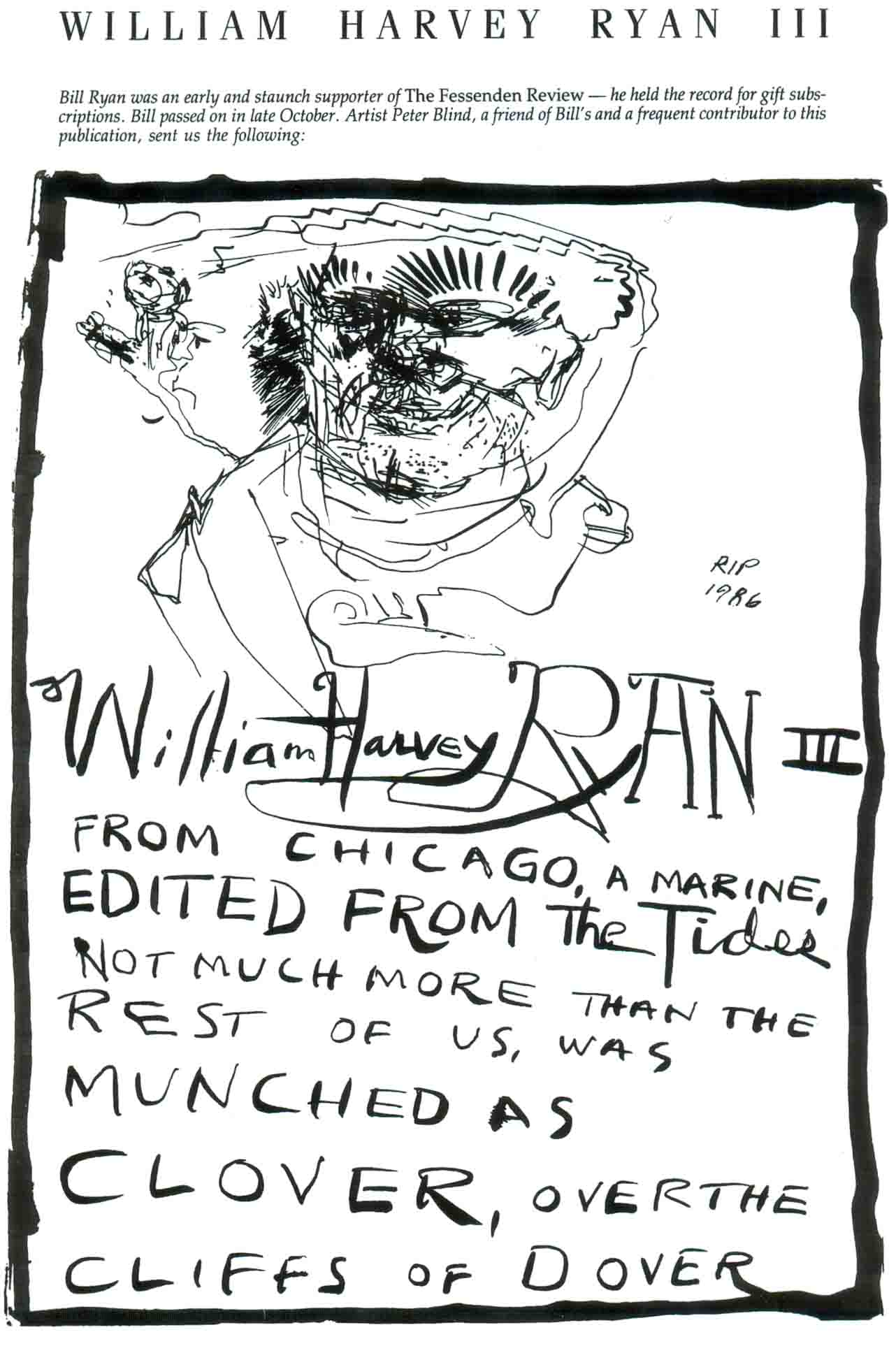 Neither radio nor literary annals document Bill's contributions, and that's too bad. He was an idea man always creating, and his concept of innovation led him to invite young people like me to join the ride. Bill shouldn't be forgotten, but has been. If you knew Bill and have a story to share, contact us, and perhaps we'll add it to this page. Artist Pete Blind created an apt goodbye for Bill in 1986, printed inside the front cover of the Fessenden Review. Now that you know how he died, you'll understand the reference.